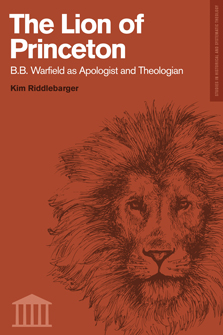 Lexham Press, the publishing arm of Faithlife (formerly Logos Research Systems, Inc., d.b.a. Logos Bible Software), just released Kim Riddlebarger's The Lion of Princeton: B. B. Warfield as Apologist and Theologian for Logos Bible Software. It normally sells for $14.95, but you can use coupon code BBWARFIELD to get it for only $7.95.
Here's a brief synopsis of the work:
In The Lion of Princeton, Kim Riddlebarger investigates Warfield's theological, apologetical, and polemical writings, bringing clarity to the confusion that surrounds this key figure of the Princeton tradition.

Riddlebarger provides a biographical overview of Warfield's life and traces the growing appreciation for Warfield's thought by contemporary Reformed thinkers. Furthermore, he evaluates the fundamental structures in Warfield's overall theology and examines Warfield's work in the field of systematic theology.

Warfield's theological heirs revere his memory, while his critics continue to find his work misguided and his legacy troubling. "The Lion of Princeton," as he was known, was certainly up for the challenge. We must therefore take a fresh look at the work of this great scholar, who was in many ways the most significant American apologist, polemicist, and theologian of his age.
It covers the following topics:
Introduction
Chapter 1: The Heir to the Princeton Tradition
Chapter 2: The Wisdom of the Vulgar—Scottish Common Sense Realism and Princeton Theological Seminary
Chapter 3: New Testament Studies
Chapter 4: Apologetics
Chapter 5: Systematic Theology
Chapter 6: Didactics and Polemics
Chapter 7: Contemporary Critics
Bibliography
Here are a couple of endorsements:
It has been a pleasure for me to learn more about Warfield as a colleague of Kim Riddlebarger. To my mind, Kim is a lot like Warfield: lucid and learned, measured and careful with his judgments, yet bold just where it's needed. This book exposes us to Warfield on his own terms, and usually in his own words.

—Michael Horton, professor of systematic theology, Westminster Seminary, CA
Kim Riddlebarger's accounting of his philosophical influences raises again the controversial question of the role of Scottish Common Sense Realism in the Princeton tradition. All who owe a debt to Warfield's vast erudition and evident devotion to Christ and the Scriptures will find much to enjoy in this portrait of The Lion of Princeton.

—Fred G. Zaspel, Author of The Theology of B. B. Warfield: A Systematic Summary